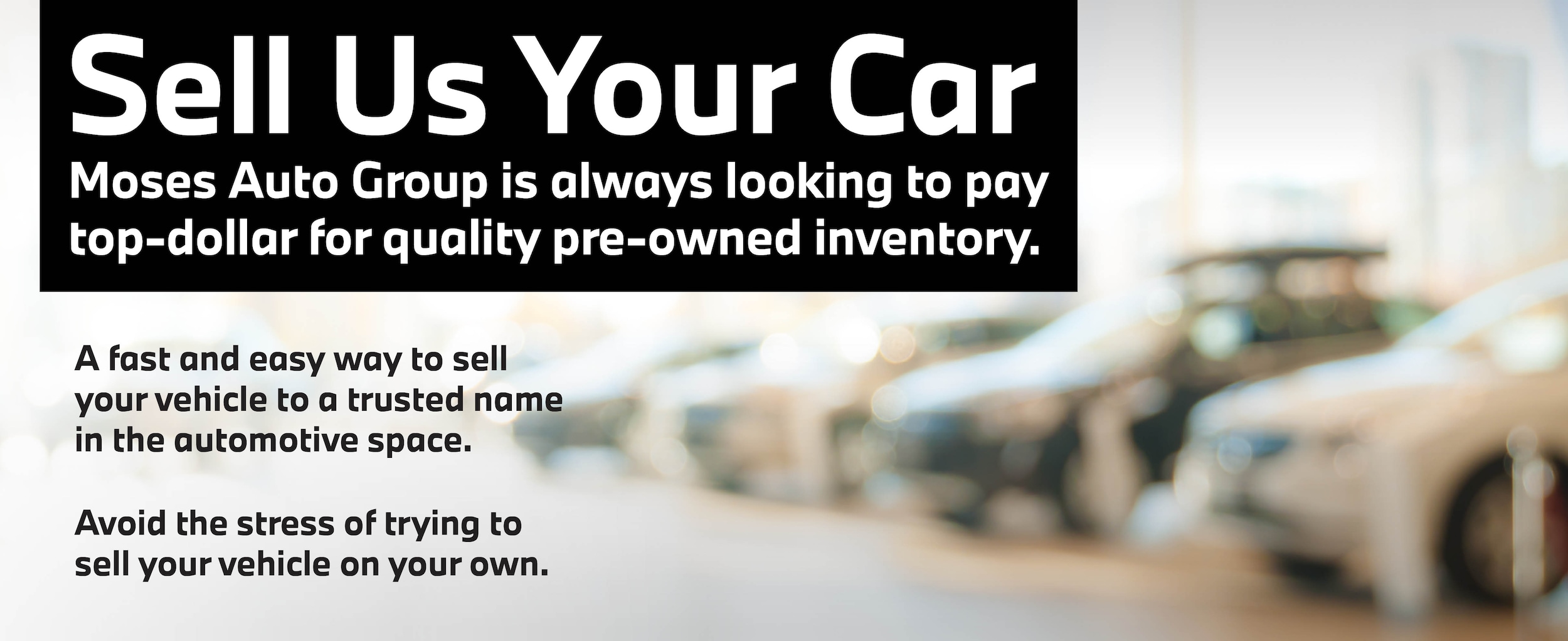 Our purchasing team will take your vehicle through an extensive appraisal process to ensure that we get top dollar for your vehicle, including:
The Exterior of the Vehicle
The Interior of the Vehicle
A Test Drive to examine your engine, transmission, 4x4 system, and interior systems such as AC, radio, back-up camera, and navigation systems. 
Inspect for any evidence of Flood, Salvage, and/or Frame Damage.
Review the CarFax report for a better understanding of your vehicle history.
Our purchasing team will then conduct research in our software and databases to provide you with our Moses Offer to buy your vehicle. Not only do you get market value, but you will get the highest offer, as we work with numerous managers and wholesalers to ensure that you get the most competitive quote on your vehicle. 
This process typically allows for a more accurate valuation and highest offer in as little as 30 minutes. 
Our offer to purchase is valid for 30 days and comes with a complimentary Carfax vehicle history report.
Our offer is based on comparable vehicles, using today's market conditions.
Current supply and demand of your vehicle year, make, model, and option packages.
Mileage and overall condition of your vehicle's exterior and interior, as well as vehicle service and accident history.
Customizations such as aftermarket parts or accessories installed on your vehicle.
Any issues that may cause title branding such as theft, frame, salvage, or flood damage.
Nationwide wholesale auction results and sales history.
The good news for Moses clientele is that we can leverage our large size to ensure that between multiple purchasing managers and wholesale contacts, we are able to procure the highest, most competitive offer for your vehicle. 
Moses Trade-Ins and Replacement Vehicles
Moses is also happy to help you find you your perfect replacement vehicle. With our inventory of over 3500 new and quality pre-owned vehicles, we have the most selection in the tri-state area to trade you out of your current car or truck into one that would be a great fit for you and your family. The good news is, you often get more bang for your buck when trading your vehicle- many OEMS offer additional incentives for loyal customers or those who have a trade. Also, our West Virginia sales tax of 6% is on your trade difference (the new car minus your trade value), so you are taxed on a lesser amount, which can save you a lot of money!
On-Site Guaranteed Appraisal- To get a guaranteed on-site appraisal, call (866) 730-2976 or click on the button for a VIP appointment with our purchasing team to appraise your vehicle. 
Online Moses Offer Estimator- To save you time and save you a trip to the dealership, Moses also provides our contactless online Moses Offer Estimator for your convenience so you can get an idea of what your car may be worth. Value Your Trade In Now